In My Mailbox is a weekly meme, hosted by
The Story Siren
,

held usually on Sundays that encourages bloggers to share what they
bought, borrowed, or begged for
this week.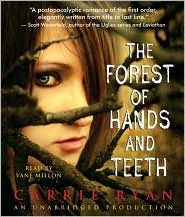 Title: The Forest of Hands and Teeth
Author: Carrie Ryan
Genre: YA Fiction
Publisher: Delacorte Books for Young Readers (February 2010)
Paperback: 336 pages
Description from GoodReads:
In Mary's world there are simple truths. The Sisterhood always knows best. The Guardians will protect and serve. The Unconsecrated will never relent. And you must always mind the fence that surrounds the village; the fence that protects the village from the Forest of Hands and Teeth. But, slowly, Mary's truths are failing her. She's learning things she never wanted to know about the Sisterhood and its secrets, and the Guardians and their power, and about the Unconsecrated and their relentlessness. When the fence is breached and her world is thrown into chaos, she must choose between her village and her future—between the one she loves and the one who loves her. And she must face the truth about the Forest of Hands and Teeth. Could there be life outside a world surrounded in so much death?
Title: Neverwhere
Author: Neil Gaiman
Genre: Fantasy/Fiction
Publisher: Harper Perennial (September 2003)
Paperback: 400 pages
Borrowed: Library
Description from GoodReads:
When Richard Mayhew stops one day to help a girl he finds bleeding on a London sidewalk, his life is forever altered, for he finds himself propelled into an alternate reality that exists in a subterranean labyrinth of sewer canals and abandoned subway stations. He has fallen through the cracks of reality and has landed somewhere different, somewhere that is Neverwhere.
Title: Prophecy of the Sisters
Author: Michelle Zink
Genre: YA Fiction
Publisher: Atom Books (2009)
Hardcover: 352 pages
Borrowed:
Library
Description from GoodReads:
An ancient prophecy divides two sisters-
One good...
One evil...
Who will prevail?


Twin sisters Lia and Alice Milthorpe have just become orphans. They have also become enemies. As they discover their roles in a prophecy that has turned generations of sisters against each other, the girls find themselves entangled in a mystery that involves a tattoo-like mark, their parents' deaths, a boy, a book, and a lifetime of secrets.




Lia and Alice don't know whom they can trust.




They just know they can't trust each other.
For Review
Title: Fated
Author: Carolyn McCray
What's in your Mailbox?